ROESTVAST STAAL AISI 304, STAAL, EN ALUMINIUM
FROST zal altijd duurzaam zijn, gebaseerd op een tijdloos design en hoge productkwaliteit. We gebruiken de beste kwaliteit materialen en ontwerpen producten in een eenvoudige en minimalistische designtaal die blijvend is.
Al onze badkamerproducten, zorgproducten en architecturale producten worden geproduceerd in roestvast staal AISI 304 met verschillende oppervlakken in geborsteld of gepolijst roestvast staal, roestvast staal met PVD-coating, of roestvast staal met poedercoating. Een aantal van onze producten wordt ook gefabriceerd met onderdelen in staal of aluminium. De UNU-serie is gemaakt van aluminium met kapstokken gecombineerd met haken en hangstangen van roestvast staal.
De duurzaamheid van onze producten wordt bereikt door zowel de productie, de constructie als het design.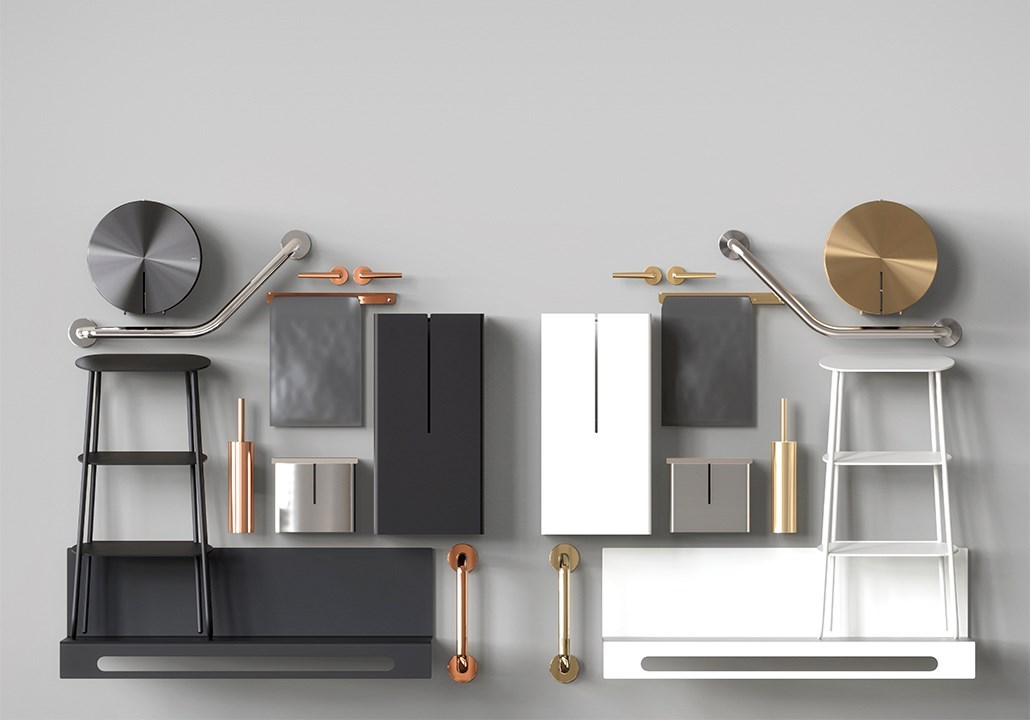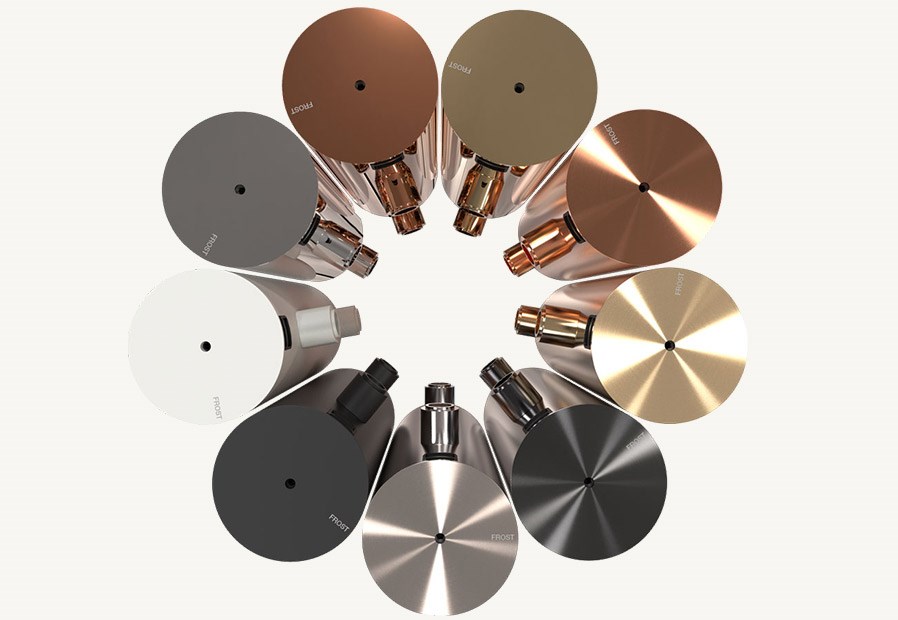 DIT IS HOE WE ONZE STERKE EN UNIEKE OPPERVLAKKEN REALISEREN
Eén van de sterke eigenschappen van FROST is de verscheidenheid in afwerkingen door het borstelen, polijsten, poedercoaten of PVD-coaten van de oppervlakken. Alle afwerkingen worden zorgvuldig gekozen voor het behalen van een sobere en minimalistisch uitstraling.
WAAROM WIJ PVD-COATING GEBRUIKEN
PVD staat voor Physical Vapour Deposition en is een coatingtechniek die wordt gebruikt voor verschillende oppervlakken, waaronder roestvast staal. De techniek van PVD-coating is een proces dat een materiaal op een oppervlak overdraagt en afzet via verdamping onder vacuümomstandigheden, waardoor de gewenste afwerking wordt bereikt.
De techniek van PVD-coating creëert sterke en duurzame oppervlakken in fraaie kleuren en beschermt tegen een groot aantal soorten corrosie. Wij gebruiken de techniek om de afwerking in koper, goud en zwart te creëren, zowel in geborstelde als gepolijste versies. Daarnaast maakt de techniek het mogelijk om sterke producten te maken met een lange levensduur.
NEGEN AFWERKINGEN – EINDELOZE MOGELIJKHEDEN
De negen afwerkingen en de minimalistische designs bieden talloze mogelijkheden om een consistente stijl te creëren in het interieur, ongeacht de ruimte of het project. De verschillende afwerkingen maken het mogelijk om het interieur een persoonlijke touch te geven.