MIRRORS FOR BATHROOM
A bathroom mirror is a mirror that is located in the bathroom, toilet or guest toilet of a house. Often, the mirror in the bathroom is mounted on the wall above the sink, but it can also stand freely or be an integrated part of a bathroom table.

Timeless designed bathroom mirrors
The philosophy behind FROST is simple. We aim to offer everybody furniture and interior in a beautiful, simple design. And it should also be possible to carry this style throughout your home. This means that here at FROST, we have everything you need to decorate your dream home. That way, you not only get luxurious, stylish furniture of the highest quality - you also get a uniform look all the way through.
This also applies when it comes to our bathroom mirrors. There may have been a time when a mirror was just a mirror. As long as you could see yourself in it, it was good enough. That is not how we at FROST see a bathroom mirror. Instead, we see it as another great opportunity to add style, elegance, and personality to your home.
FROST's bathroom mirrors come in many different shapes and sizes. For example, choose between oval, square or rectangular. Whether you want a mirror to hang up over the sink, which is the traditional solution, or you prefer to think outside the box and decorate your bathroom in a completely new way - for example with a tall, narrow mirror to put next to the sink - we have the solution for you.
FROST bathroom mirrors of the highest quality
The mirror is one of the most important elements in your bathroom or toilet. It is not only a practical thing that you can use to style your hair, brush your teeth or shave in front of - it is also one of the things that gives the most personality to your bathroom.
We have mirrors with shelf frames, so you can put different things by your mirror. It can be anything from decorative objects - small potted plants, trinkets, or scented candles. It can also be things you use in everyday life - perfumes or lotions. Or it can be practical things like toothbrush holders or battery trimmers. The possibilities are many.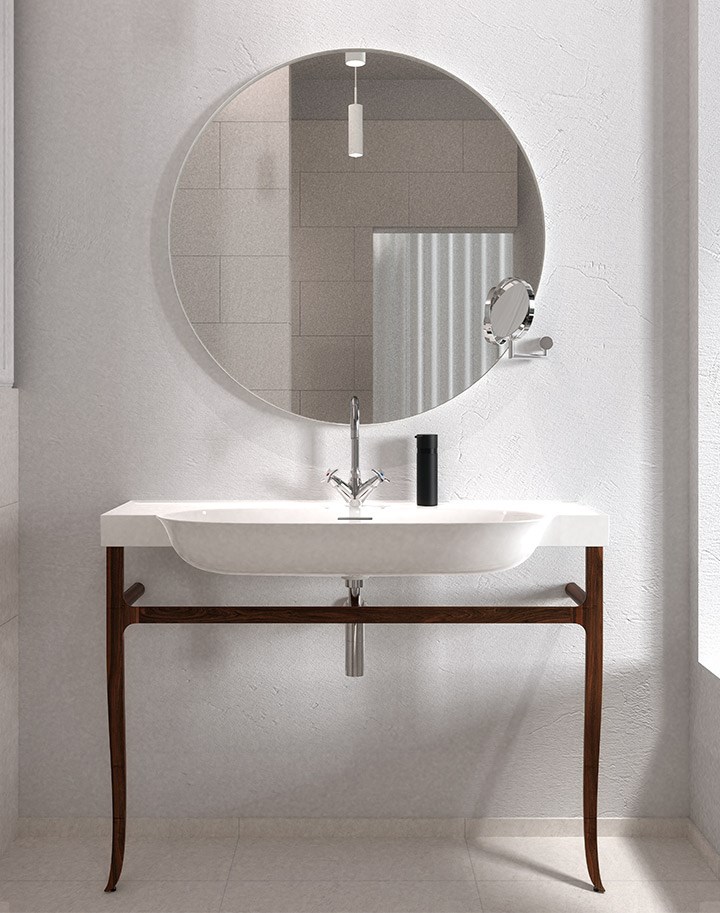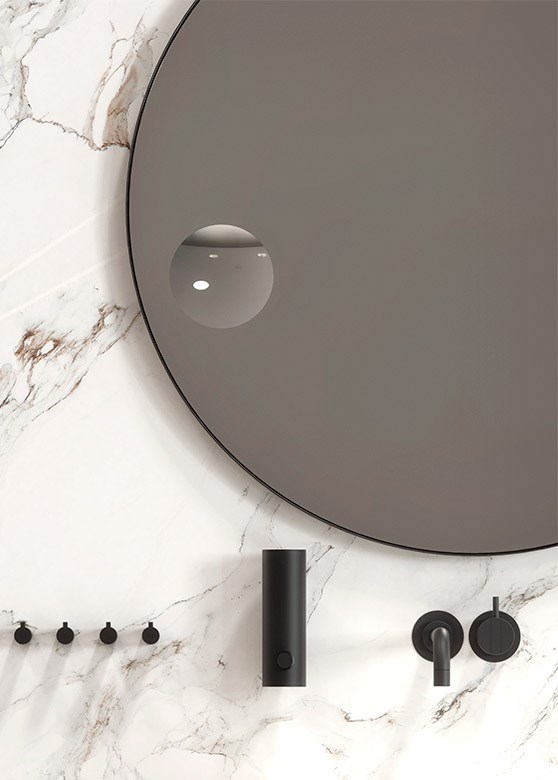 Bathroom mirrors from a Danish design company
It is Bønnelyck mdd that has designed all the bathroom mirrors for FROST. We believe that using external designers of high recognition provides great strength to the breadth and quality of our range. More eyes give more ideas and creative solutions to even ordinary challenges.
Bønnelycke mdd was established back in 1988 and has since become one of not only Denmark's but Europe's leading companies in many different branches of design. They call themselves "perfectionists with professional curiosity" - a goal that fits well with our mindset here at FROST Denmark.
Furniture and interior like mirrors are some of the things where the designer's task is most important. They must conceive and produce things that ordinary people can have in their homes and look at every day. Therefore, FROST can only accept designs of the highest quality - because we want to offer our customers something that they will never tire of, and that will never wear out or go out of fashion. It is a high goal, but we actually believe that we live up to it. Not only with our bathroom mirrors but our entire design universe.
One or more mirrors for the bathroom?
You can choose to go completely classic with a beautiful square mirror over the sink. Or you can combine several of our square and rectangular bathroom mirrors to achieve exactly the look you are after. Only imagination sets limits.
You can also choose a narrower mirror for one wall and a wider mirror for another. That way, you make your bathroom bigger while also getting the opportunity to see yourself from multiple angles. It can be practical when you need to try on a new outfit or check how your hair looks in the back.
Round or square mirror for the bathroom?
You could also try combining round mirrors with square mirrors. The round look softens the appearance, while the square gives a more stringent look. Together, strong effects can be achieved thanks to the contrasts. Whether you choose one or several mirrors for the bathroom, you are sure to get bathroom mirrors of the highest quality when you buy them from FROST.
All of our models of bathroom mirrors are made of the best materials and in the timeless Nordic look that characterizes the entire design universe from FROST. For us, it is important to offer you a bathroom mirror that is not just a mirror, but something that adds positively to your bathroom decor. A mirror that will give the room soul and character, and that you will be happy to see yourself in - day after day.