TOILET ROLL HOLDERS
A toilet roll holder, also known as a toilet paper holder, is a device for holding toilet paper. They are often made of metal, wood, or plastic and can hold the roll vertically or horizontally. Some toilet roll holders are enclosed, hiding the paper, while others are open. Toilet roll holders come in various sizes and designs, serving as both a practical and aesthetic addition to the home.

Toilet Paper Holder with Beautiful Design
At FROST Denmark, we believe that bathroom accessories and fixtures serve not only practical purposes but also prioritize design and quality. We strive to combine functionality with a sleek look and luxurious quality. This principle applies to our toilet paper holders as well, which are often compromised when it comes to bathroom decor. It's a shame because they can truly make a difference in the entire space if you have an eye for selecting the right items.
We offer toilet paper holders in brushed or polished metal and in a variety of stunning colors, including gold, silver, copper, black, and white. They all fit perfectly in bathroom environments that emphasize clean, Nordic design. Additionally, they also work well in office or corporate restrooms. Take, for example, our toilet roll holder for large paper rolls. This model is enclosed, ensuring that the paper remains completely hidden and protected from splashes or other elements. This way, you achieve a clean look for the toilet while providing a hygienic experience for visitors. This is especially important when the toilet is used by different people.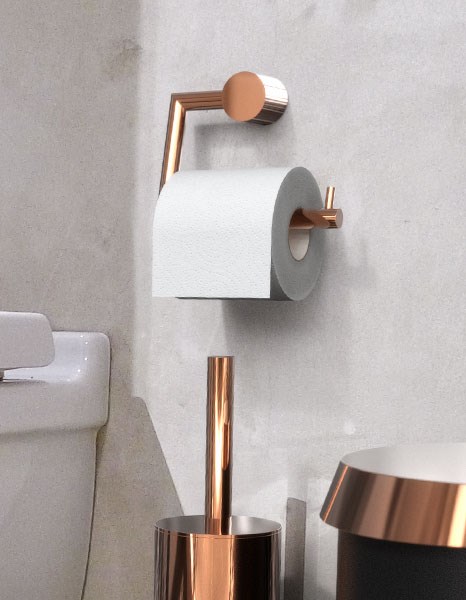 Wall-Mounted Toilet Roll Holder
We offer a wide range of wall-mounted toilet roll holders. You'll find both simple and elegant angled toilet roll holders in our NOVA2 series, designed to complement other products in the series. They are also available with matching reserve roll holders in angled or straight designs. In the same category, we also offer a rounded and slightly softer angled toilet roll holder for the wall, which can be purchased with or without a backplate. A backplate can be a good idea if the wall is delicate or prone to marks.
Our wall-mounted toilet roll holders come in the same stunning metal colors as the rest of our range, as well as black and white for those with different preferences. They are available in both brushed and polished finishes, and they all share the same top-quality construction that you will undoubtedly notice.
Among the wall-mounted toilet roll holders, the enclosed model designed for large paper rolls should also be mentioned. By completely concealing the roll, it enhances the sleek and clean look even more. These large wall-mounted toilet roll holders are commonly seen in workplaces but can also be installed in private homes. Another advantage is that they don't require roll replacement as often.
Freestanding Toilet Roll Holder
Do you have beautiful tiles on the wall? Or do you simply want to avoid drilling holes? Then there is a good reason to consider our freestanding toilet roll holder. It is simply placed next to the toilet. With its weight of 6 kg, it is stable enough to stand securely while also being easy to move when cleaning around the toilet, for example. Since all our freestanding toilet roll holders are made of stainless steel, they are virtually indestructible, and you won't have to worry about rust or corrosion.
Furthermore, our freestanding toilet roll holder is a combination model that also includes a toilet brush. You get two smart functions in one. The toilet brush is completely concealed in a closed cylinder, also made of stainless metal. The brush is not visible, and any wastewater will be hidden away. Additionally, the brush hangs freely, allowing it to dry and drain before the next use. As the toilet roll holder is portable, it can be easily lifted for cleaning purposes.