MIRRORS & BACK LIGHTS
Mirrors are reflective surfaces that create an image of what is placed in front of them. They can be found in most homes and come in many different sizes and shapes. Some mirrors are wall-mounted, while others are freestanding or part of a stand. They are an aesthetic addition to the home that can be placed as desired.

All About Popular Mirrors
FROST offers a huge range of mirrors, as they play a central role in modern home decor. In addition to serving a practical purpose, mirrors also have significant aesthetic value. They contribute something to the room's atmosphere and can even make a space feel larger because they reflect the surroundings, giving the impression that the room is more spacious. Mirrors often brighten a room, making it feel more friendly and inviting, as the natural light entering the room is reflected back, thereby enhancing it.
Mirrors give a room personality, and it matters significantly what type of mirror you choose. In short, at FROST, you will find everything in mirrors. We have large mirrors, small mirrors, round mirror, square mirrors, wall-mounted mirrors, and mirrors for clothing stands. Common to all of them is that they are made with the highest quality in mind and not just for their function - they also need to be visually appealing.
The mirrors in FROST's catalog are made by Danish designers Bønnelycke mdd, busk+hertzog, and Daniel Lavornius. The materials used are either aluminum, stainless steel, or plastic, and the mirrors have a long lifespan and are resistant to wear, moisture, and scratches. The colors of the frames are either black, white, gold, silver, or copper. The quality is either brushed or polished. Frames can be wide and prominent, thin, or completely frameless. All models fit well into the Nordic design, as they are stylish and modern in their expression.
Mirror with Practical Shelf or Hook
Our model of mirror with a shelf comes in either matte black or matte white. The rounded corners provide a beautiful retro look, and the smart shelf at the bottom can be used to store small items like keys, perfume, phone, makeup, or toothbrush holder. Our mirror with shelf is well suited for the hallway, bedroom, or above the dressing table.
We also have mirrors with hooks for clothes, bags, or key lanyards. They are available in a rounded, rectangular design, or a classic round design. Both models come in many different variations, including black, white, copper, gold, and silver - so you can choose the exact color that fits best in your room.
The small mirrors with hooks measure 16 x 8 centimeters and weigh only 200 grams. Therefore, they are ideal to put up in a row if you want to use them as a stylish alternative to the coat rack in the hallway. They would also contribute something truly stylish to the bedroom, where you often want to hang your bathrobe or the next day's shirt. The small mirrors with hooks can also be used individually, for example, for the towel in the bathroom or the dish towel in the kitchen. They can be mounted on walls, half-walls, cabinets, or even doors.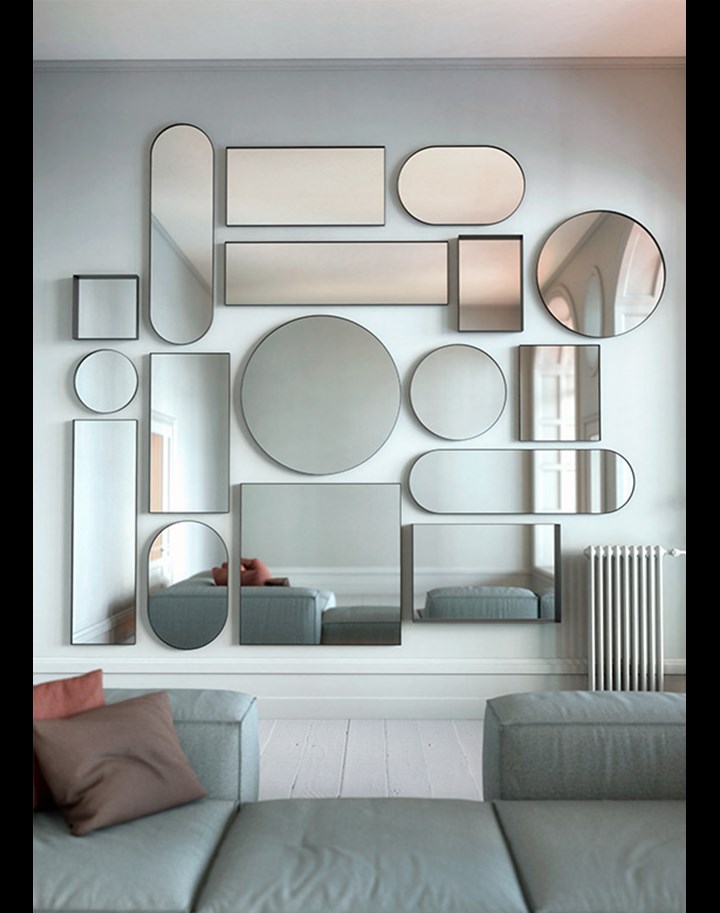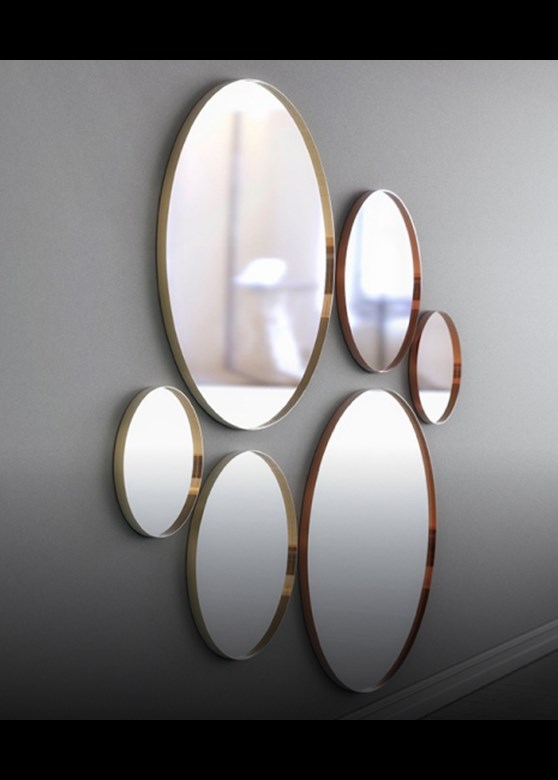 Mirror with Hook and Hanger
The Picture Perfect model, designed by busk+hertzog, is a small mirror with a hook that can hold a hanger. It is made of aluminum and is available in a host of different, beautiful colors. Perfect for the larger family, which would like to have its own mirror with a hanger. When hung in a row in the hallway, Picture Perfect will provide a beautiful and lively twist to the room's decor.
The Picture Perfect mirrors can also be distributed in different rooms - a mirror in each room - creating a consistent theme throughout the interior design. They can be used both with and without the included hanger. Perfect for hanging outerwear, so you can check it's sitting right before heading out the door. It's also well suited for the bedroom, where you have the opportunity to fix your hair or tie your tie.
Stylish Cosmetic Mirrors with a Beautiful Design
FROST carries both cosmetic mirrors to place on the table, shelf, or dresser, and cosmetic mirrors to mount on the wall. They could be next to the large mirror in the bathroom, or by the dressing table. They could also be right next to the shower, if you shave while bathing. Our wall-mounted cosmetic mirrors come in many different variants, including black, white, gold, copper, and silver.
Among cosmetic mirrors that can be placed on a table, we have a classic round model that can rotate around its axis and has mirrors on both sides. This model is handy if you need to look at yourself from a slightly lower angle. It is easy to move and stands stably on its base. We also have a table mirror in the UNU series, which, with its unique, bent design, adds extra style and personality to your dressing table.
If you do not want a separate cosmetic mirror, we also have a regular round mirror with a magnifying glass. It works perfectly for the dressing table or bathroom, where occasionally you might want a closer look at yourself.