MIRRORS FOR WARDROBE
Having a mirror in the entrance is practical, whether you are coming in or going out the door. In some places, there might be a need for a smaller mirror above a dresser or a shelf, while other spaces can accommodate a full-length mirror by the wardrobe. Find all types of entrance mirrors here.

Choose the Right Mirror for the Hallway or Entrance
There are many options when it comes to finding the perfect mirror for the entrance, wardrobe, or perhaps a narrow corridor or hallway. First, consider where the mirror should hang and how much space you have available. If space is limited in the entrance, you may need a smaller mirror that can hang above a dresser, shelf, or shoe rack. Here, it's about thinking in practical and space-saving solutions that can also be aesthetically pleasing with the right choice of mirror for the entrance.
If you have plenty of wall space, a full-length mirror can be an option. With a full-length mirror, you can not only see your hairstyle but also leave the house knowing that your jacket isn't wrinkled and that your overall attire looks as it should. Additionally, larger mirrors have the ability to make the room itself appear larger by creating depth and reflecting light, while also having a decorative effect in their own right.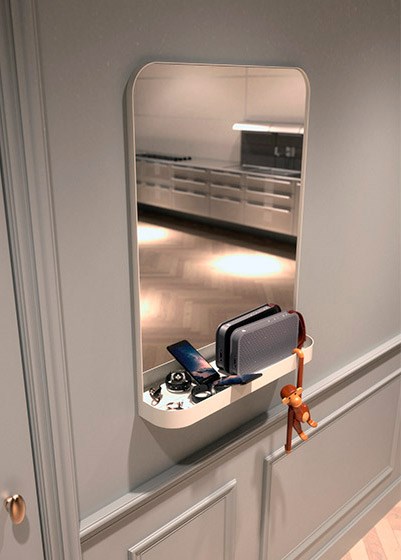 Mirrors for Hallways or Entrances with Different Finishes
One characteristic of FROST mirrors is the wide range of finishes and surfaces. Each finish has its own distinctive features and a large selection of design interiors that can be combined in various ways while considering the consistent design concept through matching surfaces and design language. We achieve our surfaces by polishing, brushing, powder coating, and PVD treatment. Furthermore, there are different materials and colors available, so you can choose between gold, copper, steel, white, and black.
When deciding on a finish for your entrance mirror, you can choose to go in several directions. You can opt for a color that seamlessly blends into the existing decor without being visually dominant, or you can choose a contrasting color or a more eye-catching material. It's your choice whether your mirror in the hallway or entrance should be a focal point or a discreet addition to the design concept.
Choose One or Several Mirrors for the Entrance or Hallway
You can create an interesting element in your interior by combining multiple wall mirrors in different sizes. This can be a way to achieve a more dynamic expression than what you can achieve with a single large mirror. In our selection, we have round, oval, square, and rectangular mirrors in many different sizes, giving you ample opportunity to play with shapes and sizes when looking for new mirrors for the hallway.
Of course, you can also go the classic route with a single, well-chosen mirror that fulfills its function and shines in its simplicity. With a finish in, for example, gold or copper, you are guaranteed a striking selection of entrance mirrors that are both aesthetic and practical additions to the decor. Smaller mirrors are well-suited to be placed above furniture or coat racks, while larger mirrors should have space around them so you can see yourself from multiple angles before heading out the door.