SOAP DISPENSERS
A sleek soap dispenser that speaks the same design language as the rest of the interior in the bathroom or kitchen is indispensable for decorating a space with clean lines and a clear vision. At FROST, you will find soap dispensers for both the countertop and the wall, all distinguished by their ability to combine Nordic design tradition with functionality and hygiene.

Where should the soap dispenser be placed?
In our range of simple soap dispensers, you can choose between wall-mounted models and those that are meant to stand on a countertop or vanity. Each has its own expression and advantages, making them suitable for different purposes.
If you are decorating a restroom in a hotel, conference center, gallery, or any other space, wall-mounted soap dispensers are a popular and often practical choice. Once they are installed, they stay in place, allowing for a neat and hygienic handwashing environment. Additionally, they don't take up space on the countertop or by the sink, where space can sometimes be limited. The wall-mounted soap dispensers come with both lockable and non-lockable lids.
On the other hand, countertop soap dispensers offer a more flexible solution where you are not confined to a specific location. They do not require installation and are the preferred choice for many in their private homes.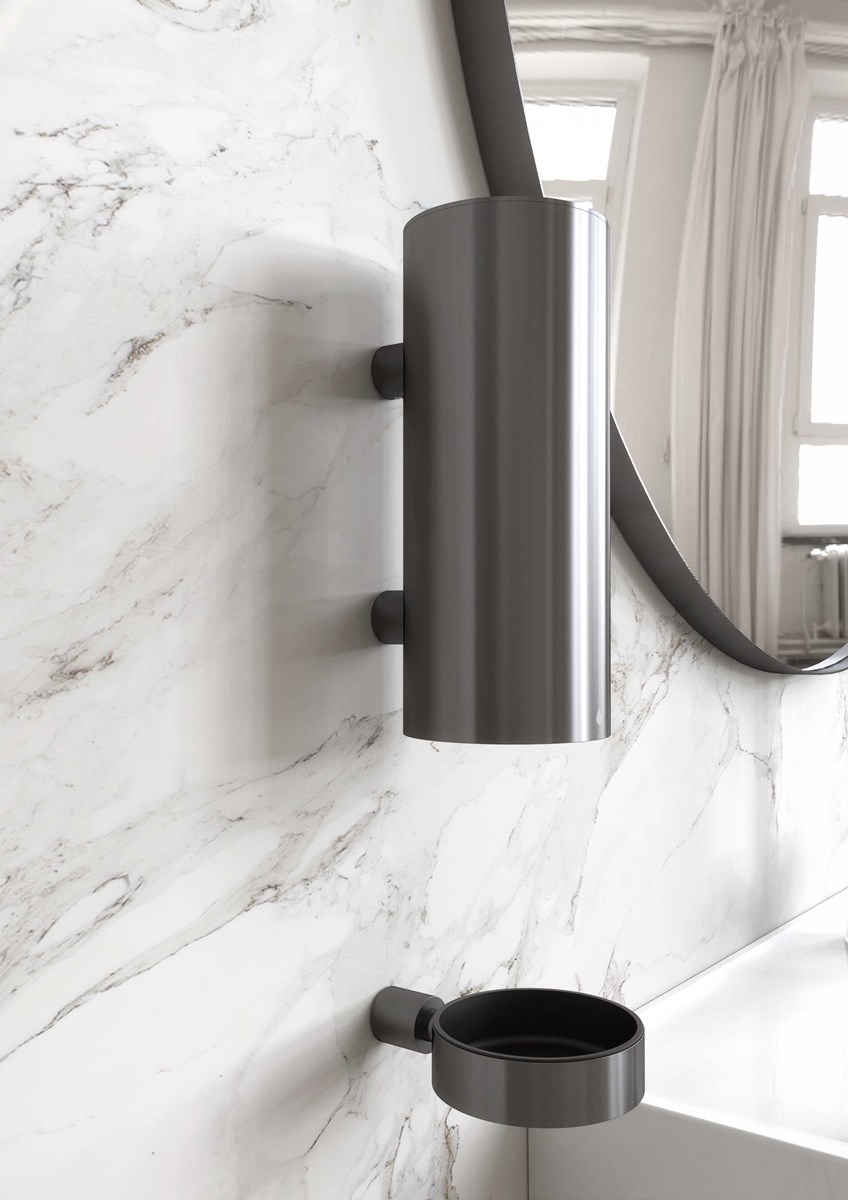 Choose a soap dispenser in the right material
A well-designed bathroom or kitchen that exudes attention to detail and a well-thought-out concept is characterized, among other things, by consistent materials. Both the bathroom and the kitchen often feature glossy surfaces in the form of fixtures, dispensers, and holders of various kinds, providing ample opportunity to create a cohesive design concept.
Therefore, our soap dispensers, along with a significant part of our other bathroom and kitchen accessories, are available in a range of different materials with various finishes. Choose from steel, gold, and copper, available in either a polished or brushed finish. We also offer brushed black, matte black, and matte white. We understand that bathroom accessories need to meet many design requirements, as they must be coordinated with floors, walls, colors, textures, furniture, and other accessories. That's why we have chosen to offer such a wide range of materials - you will always find a soap dispenser that either matches the rest of the decor or creates an interesting contrast.
Where Nordic design tradition and functionality go hand in hand
At FROST, we believe that one way to create progress is by collaborating with the most talented external designers and architects. A hallmark of our design collaborations is the Nordic design tradition, which is evident in everything from soap dispensers to mirrors and shelves. We celebrate the stringent and minimalist approach and all the possibilities that simple design offers in interior decoration. At the same time, functionality is paramount - a beautiful design with practical features is at the core of our philosophy.
With furniture, interior decor, and accessories in a stringent and sleek design, you can go in multiple directions. You can create a complete minimalist interior, where even the color choices and the rest of the decor adhere to a minimalist style with clean lines. Alternatively, you can use the minimalist design to complement and tone down a more expressive interior style, thereby creating balance in the decor.
We combine stringent design with functionality and practicality. Explore our range by looking at a specific finish or a particular series where the design is meticulously coordinated across all elements. You can also find inspiration in our references or catalogs for your next interior design project.