TOWEL BARS FOR WALL
Whether you're furnishing a large or small bathroom, there are countless storage solutions, including creative towel hangers like a wall-mounted towel holder. With a wall-mounted towel holder, you have a functional hanging solution, while both the holder and the towel serve as decorative elements in the chosen space.

Save Space with a Wall-Mounted Towel Holder
In rooms where every inch counts, a wall-mounted towel holder from FROST is a smart solution that frees up valuable floor space and adds an elegant touch to the decor with its combination of minimalist and practical design. Our towel holders are designed with a focus on space optimization without compromising on aesthetic appeal. They can be easily mounted on the wall, creating a more open and spacious feel, particularly in the bathroom. Simultaneously, they contribute to a tidy and organized environment without disrupting the room's interior style. At FROST, you'll find towel holders in black and white, as well as polished gold and brushed copper. Depending on the design, many of our wall-mounted towel holders are available in all our recognizable finishes, which you can match with the rest of our bathroom accessory selection.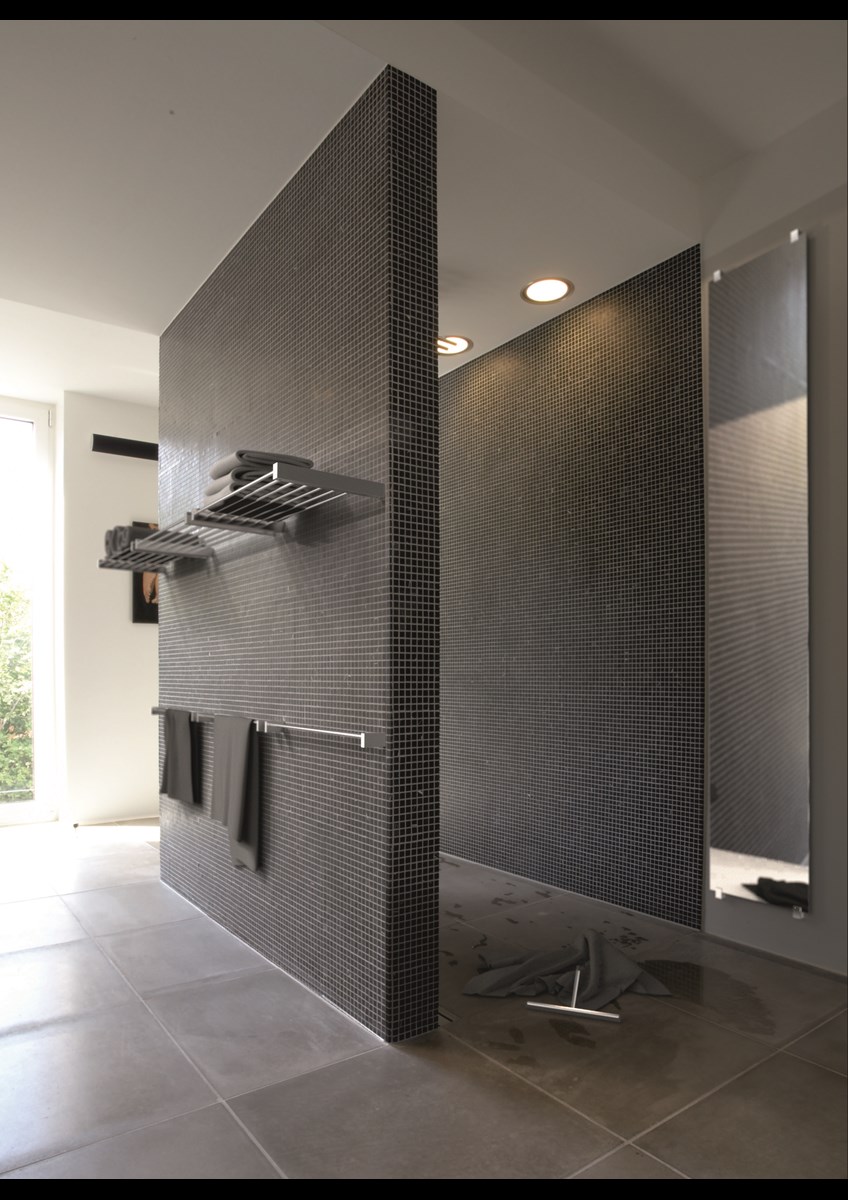 Wall-Mounted Towel Holder as a Decorative Element
Our towel holders are available in various styles and designs, each with its unique advantages that suit different spaces and preferences. As mentioned earlier, wall-mounted towel holders are excellent for smaller rooms where optimizing floor space is crucial. In our range, you'll also find towel holders with either single or dual bars, allowing you to store and dry multiple towels at once according to your needs.
When it comes to incorporating a wall-mounted towel holder into your decor, you have plenty of options. You can choose a holder that stands in sharp contrast to its surroundings, or you can create a consistent theme with small details in polished steel, gold, or copper in the room. If you prefer to keep the fixed elements in neutral colors, you can always add a pop of color with towels, shower curtains, and other matching items. Conversely, if you want to make use of more exciting and metallic finishes, you can select towels in neutral colors in both light and dark shades for intriguing dimensions.
If you prefer not to install towel holders directly on the wall, we also offer floor-standing towel holders or ladder-style holders in our signature FROST design.
A Wall-Mounted Towel Holder Combines Elegance and Function
In our range of wall-mounted towel holders, you're guaranteed a combination of aesthetics and functionality that captures the essence of Nordic design. These towel holders are not just practical home accessories but also discreet design elements that can complement minimalist homes in serene tones and more extravagant decors with a plethora of colors. Our wall-mounted towel holders are carefully crafted to add stylish yet understated elegance to the bathroom, kitchen, spa, or any other space where you need them.
By collaborating with talented designers who embrace clean lines and meticulous details, FROST ensures towel holders that effortlessly balance practical use and visual appeal. They are created with consideration for everyday routines, making them an excellent example of how practical accessories can also be aesthetic. This approach makes our wall-mounted towel holders ideal for anyone who values the beauty of a simple design and seeks items that can enhance the overall look of the space without sacrificing practical function. Regardless of decor and style preferences, FROST offers a solution that honors both form and function.
If you want to optimize your interior design, explore our selection of exclusive towel holders in Nordic design that combine functionality and aesthetics.