TOWEL BARS & -RACKS
Towel holders are indispensable accessories in many spaces, seamlessly blending functionality with design. They organize the room by keeping towels within reach while simultaneously adding an aesthetic element to the decor. Get them in various styles, from wall-mounted to freestanding models, that complement your personal style and fulfill comfort and space optimization needs.
Choose Matching Towel Holders and Create Harmony
Combining functionality with aesthetic appeal in home decor can often be a challenge, especially in areas with limited space such as bathrooms, kitchens, hotel rooms, and other small spaces. Here is where elements like towel holders might play an overlooked role.
At FROST, we offer a wide range of towel holders that not only fulfill their practical purpose but also serve as central design elements in the room. Our range includes different models, including wall-mounted and freestanding versions that complement any modern interior. You can get our towel holders in simple designs that can instantly add a touch of luxury to the interior. They are available in the following finishes, which can be combined with matching details from FROST:
Matte black
Matte white
Brushed steel
Polished steel
Polished steel and matte black
Polished steel and matte white
Polished copper and matte black
Polished copper and matte white
Polished gold and matte black
Polished gold and matte white
This allows you to choose the finish that best matches the rest of your decor. You can also select towel stands that combine neutral white and black with metallic surfaces, as seen in the design of our towel stand. However, if you have other elements and decorative details in brushed gold or copper, you can opt for a towel holder in the same expression.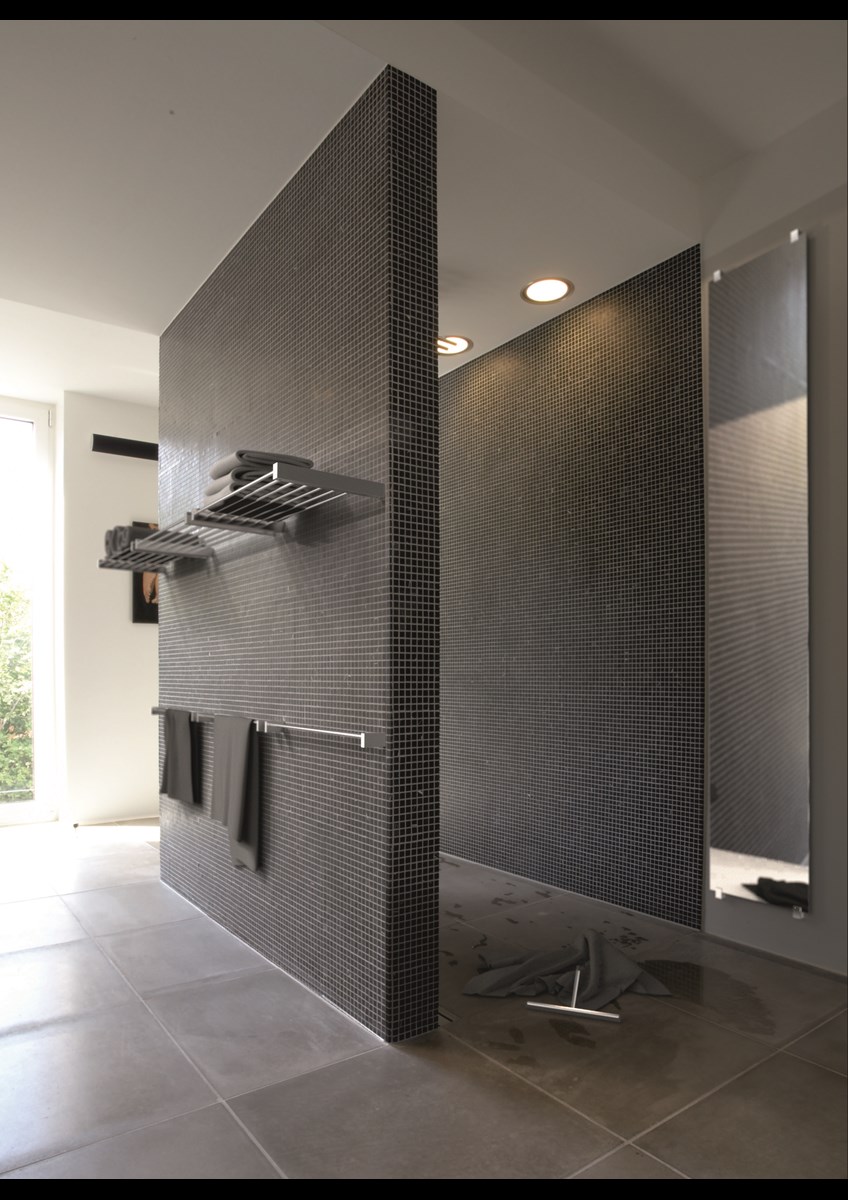 Wall-Mounted Towel Holders for Smaller Spaces
When furnishing a smaller room, it often requires a creative approach to blend style and practical features. Here, a wall-mounted towel holder is an obvious solution for storing your towels while ensuring they are always at hand when needed. In a room where every square meter matters, these towel holders provide a sophisticated way to free up floor space and organize the room optimally. By creating a space for your towels, you avoid clutter and can maintain a tidy and inviting space, especially crucial for smaller rooms.
At FROST, we embrace the Nordic interior tradition, where every element in the home should contribute to a sense of order and style. Therefore, our wall-mounted towel holders not only strike a perfect balance of functionality but also aesthetics. With their minimalist expression and clean lines, they can complement any interior style and add a sense of spaciousness even in the most compact spaces.
Towel Stands for the Floor and as Ladders
If you desire a dynamic and movable solution, our range also offers towel stands that you can place and move as needed. These are ideal for those who prefer a less permanent but still stylish storage solution for their towels. Our towel stands are designed with convenience and modern aesthetics in mind and are available with either one or two bars.
Towel ladders can add something special to the room; these ladders are perfect for hanging multiple towels while also serving as an artistic focal point. If you want to add a unique detail that draws attention, we recommend our BUKTO ladder, which is perfect for leaning against the wall near the shower or sink, ensuring your towels are always ready for use in a stylish manner. The ladder has five steps where you can easily hang your towels to dry after use in an elegant way and is available in our standard black or white colors, with the option to choose the metallic finish for the top of the ladder.
Quality and Durability in Focus
At FROST, each towel holder is more than just an accessory; it is a fusion of style and function, created to enhance both daily life and interior decor. We craft our products based on a modern Nordic design style that focuses on combining practical and aesthetic details. Therefore, our towel stands and holders are a sophisticated addition to the decor while making your everyday life a bit easier by ensuring a dedicated place for your towels.
If you need more inspiration on how to use our range of towel holders in your decor, please feel free to browse through our catalogs. You are also welcome to visit our showrooms in Hadsten and Copenhagen for personalized guidance from our talented and friendly staff.