PAPER DISPENSERS
In a bathroom or toilet, a paper dispenser may not be the most prominent part of the interior. Nevertheless, this piece of bathroom decor contributes to creating a positive overall impression that the space is intended to convey. At FROST, you will find paper dispensers in various sizes, finishes, and materials.

A paper dispenser that harmonizes with the room's decor
If you want to create a cohesive design concept with a clear idea and vision, no detail is too small. On the contrary, it is in the details that you have the opportunity to elevate your design. For the average consumer, paper dispensers may not hold much significance in their consciousness, but when you are decorating a bathroom or toilet, the dispenser plays an equally important role as the rest of the interior. If it falls outside the design concept, it will stand out negatively and impact the overall experience of the space.
Our paper dispensers come in various finishes and sizes, providing you with ample opportunity to find a dispenser that aesthetically and practically supports the overall idea. Choose a finish that harmonizes with the rest of your bathroom decor and use a subtle accessory like a paper dispenser to underline the style of the bathroom.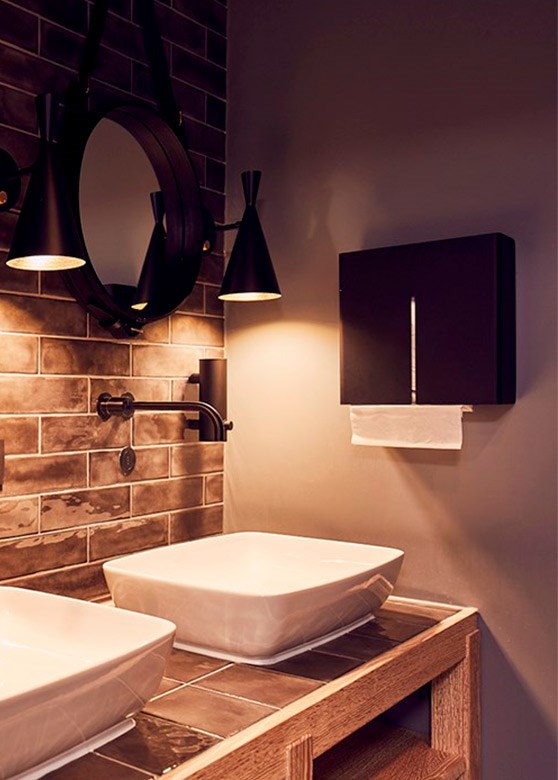 Paper dispensers in multiple finishes and sizes
At FROST, we offer our bathroom accessories - including paper dispensers - in nine different finishes. We do this to give you room for creative expression and the ability to choose the finish and surface type that best enhances your design vision.
You can choose from both brushed and polished finishes in steel, gold, and copper. Additionally, we offer brushed black, matte black, and matte white. This means you can always find a finish that speaks the same design language as our other bathroom accessories with the same surface and series. Consider the surface in conjunction with fixtures, walls, floors, colors, and textures - many elements need to come together harmoniously, and with a paper dispenser in the right finish, you contribute to creating a consistent thread in your decor.
The NOVA2 series offers paper dispensers in two different sizes, both suitable for paper measuring 22 x 9 cm. The size of the dispenser you should choose depends more on the role it should play and the amount of wall space available.
Our paper dispensers combine design and functionality
When it comes to bathroom interior decor, a sleek and aesthetic exterior is of great importance. Equally important is that the design elements also meet the practical functions that we expect from them. For example, a good paper dispenser should make it easy to access the paper and dispense only one sheet at a time to minimize waste. It should also be easy for staff to refill the dispenser with new paper. There are many considerations to take into account, and in our designs, we have thought of them all.
The combination of practical functions and clean lines in the Nordic design tradition is what characterizes interior decor from FROST. Our external designers and architects strive to combine functionality with minimalist and stringent design in each element of our series, creating a beautiful harmony with various types of interiors.
Find inspiration for bathroom decor with FROST
You can find inspiration for your next decor project in several places - explore our different product categories and series here on our website, browse our inspiration catalogs, or visit our flagship showroom in Copenhagen or our showroom in Hadsten.