MIRRORS WITH SHELF
A mirror with a shelf is not just an aesthetic addition to a room where you can display decorative objects. It also serves a practical function because the shelf can be used to store small items such as phones, keys, headphones, and more. Explore the selection of mirrors with shelves in various designs here.

Mirrors with shelves are suitable for many types of rooms
If we start counting the rooms where it is obvious to place a mirror, we quickly come up with quite a few. In an entranceway or near entrances and exits in general, it is advantageous to have a mirror that you or your guests can use when arriving and before going out the door again. In the bathroom, above the sink, having a mirror is almost a given, and in rooms such as hotel rooms, it is also unthinkable to be without a mirror.
When you choose a mirror with a shelf, you add the option of placing objects on the shelf in addition to the mirror itself. Depending on the room where you place the mirror, there are various obvious storage possibilities. In the entranceway or hotel room, it may be the mobile phone, keys, or wallet that are placed on the mirror's shelf. In the bathroom, it can be used for everything from makeup to toothbrushes, and in all places, you can also choose to use the shelf for trinkets and decorative elements that add atmosphere and contribute to the room's decor.
A mirror with a shelf is a decorative way to save space
Especially in smaller rooms or narrow hallways, a mirror with a shelf truly justifies its existence. Essentially, you get three different functions in one piece of interior: firstly, you have the practical function of the mirror, secondly, you have the built-in storage in the form of a shelf or shelf frame, and thirdly, the mirror with a shelf is a decorative object in itself.
In the entranceway, you may be able to save a chest of drawers or a bookshelf that would otherwise be used to store small items that you need to grab quickly on your way out the door. In the bathroom, you avoid having to place your lipstick or cotton swabs on the sink but can instead place your belongings on the shelf beneath the mirror. Depending on where you place the mirror, it can have many different functions and save you from placing even more furniture in the room.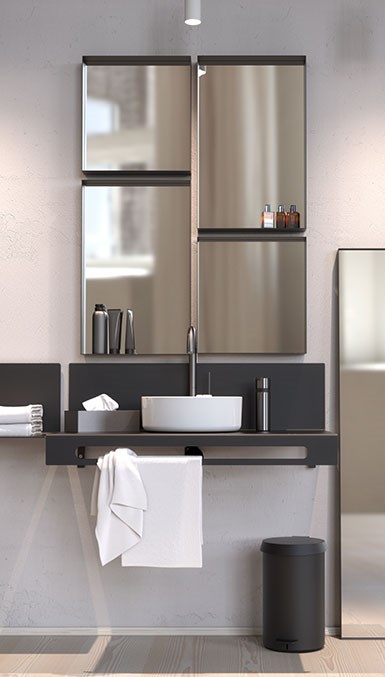 Upgrade your decor with a mirror with a shelf
Our mirrors with shelves come in several colors, allowing you to choose a model that matches the overall design direction you have chosen. The matte black model is discreet and effortlessly blends into any type of decor, while the white one is more eye-catching. Sometimes, you may want a mirror that doesn't draw much attention, while other times, it can take center stage in the room.
The shelf on the mirror also gives you the opportunity to place trinkets, candles, small plants, or other items that can contribute to creating ambiance and atmosphere in the room. It doesn't just have to be a place for practical objects but can also serve as a display shelf for showcasing the things you want to highlight.
FROST is Nordic design with a minimalist touch
At FROST, function and design go hand in hand. Our interior pieces are meant to serve a function while creating harmony in the decor through the threads of Danish and Nordic design traditions. We offer different finishes such as our mirrors with shelves in matte black and matte white, and these finishes can be found on several of our design products, allowing you to carry out entire design concepts focused on specific, cohesive surfaces. It creates calmness and coherence and provides a satisfying design experience.