SOAP SHELVES
A carefully chosen shelf for the bathroom can serve as a practical device for storing items such as soaps and towels, but it can also be used for more mood-enhancing elements like plants and decorative objects. At FROST, you will find a wide selection of shelves for the bathroom designed for different purposes and available in various designs and finishes.

Shelves for the bathroom with different purposes
A bathroom shelf can be a common shelf that can be used for most things, such as decorative objects, small shampoo bottles, or creams and lotions. However, a bathroom shelf can also be designed with a specific purpose in mind, and you can find this type at FROST as well.
We offer a large variety of shelves for the bathroom that are suitable for different tasks. For example, there may be a soap shelf with ridges or holes to prevent water from pooling on the shelf, which is usually placed in the shower niche. Here, you will find both individual shelves and double shelves, and some of them can be hung over the glass door or wall of the shower niche instead of being mounted on the wall. This provides a flexible solution without the need for installation.
Another classic shelf for the bathroom is the shelf with one or more holes for cups. It ensures that the space at the sink is not occupied and that cups or glasses in the bathroom can be stored in a practical and visually appealing manner. Additionally, there are shelves that are particularly suitable for items such as towels and are popular choices in hotel bathrooms, spa and pool areas, and similar places.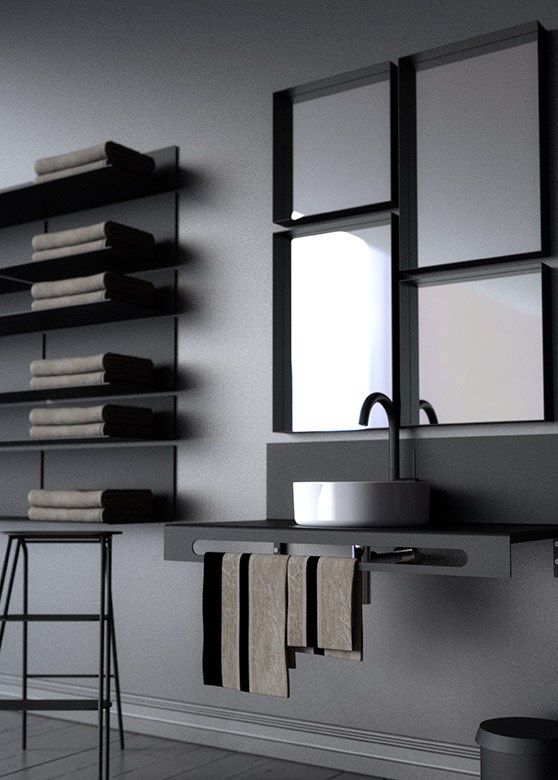 Wide selection of decorative shelves for the bathroom
A particularly inviting way to incorporate a shelf in the bathroom is by integrating it with a mirror. At FROST, you will find several mirrors with shelves at the bottom, which is especially convenient in the bathroom because it provides a place to put makeup, creams, and other items used in front of the mirror. The shelf can also be used for mood-enhancing objects such as candles or fragrance sticks.
Once you have chosen your shelves, you can also customize their appearance in different directions through your choice of shelf brackets and supports. There are both discreet and more eye-catching variations available, which contribute to the room's decor in different ways. Thus, there is a world of difference between choosing small shelf brackets in a matte black or more sculptural supports in a beautiful gold finish.
Do you need a gold-colored, white, or black shelf for the bathroom?
The many different finishes we offer at FROST allow you to express your creativity and visions for each individual bathroom. For example, you can choose between gold, copper, and steel in both polished and brushed finishes, or furnish with brushed black, matte black, or matte white. Everything from shelf brackets to door handles is available in the same finish, so you can always maintain a consistent design concept without compromising your vision.
Discover how much of a difference you can make with the perfect finish. Create an extension of the room's original expression or entirely new contrasts. It's all possible with bathroom interiors from FROST.
Nordic design with functionality in mind
At FROST, the consistent design is based on the Nordic design tradition. However, we are also focused on designing products that are functional and address specific everyday needs. This also applies to our shelves for the bathroom, which is why you will find several different shelves in our assortment that support various requirements.
Get inspired here on our website, in our catalogs, or visit our showrooms in Copenhagen and Hadsten if you want input for your next interior design project.